Networking while you work: a co-working benefit
Growing your professional network is essential. Most people build professional connections at work, but the traditional concept of how and where we work is changing. Once upon a time, we were told to "whistle while you work". But to be successful in business, it's about networking while you work.
Flexible working is becoming the norm. Many top companies are looking for remote workers. Under the new legislation, staff could ask employers for flexible working from the moment they start a job.
Working from home has its advantages. However, it is easy to overlook the disadvantages of working from home. Many remote workers feel they never stop working because they don't leave the workplace. Feeling isolated and lacking social interaction can lead to poor mental well-being.
If you feel lonely since you started working in a flexible or hybrid way, you are not alone. Flexible workspaces help combat loneliness. At HomeWork, we offer "the perfect alternative to working from home", according to Putney member Steve.
Networking while you work remotely is more challenging. Your network could dwindle if you are not getting out and meeting new people. A stagnant network will affect the growth and sustainability of your business.
How to find your business network or tribe
You have undoubtedly heard the saying, "People buy from people they trust, and they trust people they like" – Garrison Wynn. It is the main reason referral networking works. But networking groups can be intimidating and often require a significant commitment in terms of time and money.

So, where else can you network to increase your connections and spot new business opportunities?
You can use social media to keep in touch with people you know, share ideas, and build your career. LinkedIn is the main platform for professional networking and career development. If you're starting, read How To Start Networking on LinkedIn by Social Selling Strategist Mindi Rosser.
But, in our humble opinion, there is no substitute for networking while you work. And that means meeting face-to-face.
Co-working spaces offer plenty of opportunities for networking while you work. Professional workspaces like HomeWork are full of ambitious, savvy people looking for a new challenge or to build or scale a business.
The importance of face-to-face networking
Successful businesses rely on relationships. Surrounding yourself with positive people with a similar drive and ambition will enable you to see things from another point of view to support sound business decisions.
Technology is changing how we live, work, shop and socialise. But technology can't always replace human interaction—specifically, our innate ability to make a meaningful and emotional connection with others.
Five benefits of networking while you work face-to-face:
You are more likely to build an emotional connection to earn trust and loyalty.
You can communicate your vision and goals clearly and in context.
You are more persuasive in person, helping you to achieve things quicker.
You can learn from each other by sharing ideas, knowledge and experiences.
You will read non-verbal social cues like facial expressions and body language.
Tips for networking while you work
Networking can be a powerful business tool when done correctly. A common misconception is that networking is about selling. It is not about shoving business cards into people's hands unwillingly.
Networking is about building your network to help you achieve your business goals. Building a healthy business pipeline is essential, but networking can help you achieve much more. Networking is an opportunity to raise your business profile and professional reputation.
Five ways to make a positive impression when networking:
Do tell, don't sell. Approach people with an open mindset to get to know them before asking for anything.
Add value. Be generous with your advice and contacts. Shift your focus from will they buy from me to how can I help them?
Ask questions and listen. Show you're interested in people. Find out why they are there and who they want to meet.
Do be selective. Wait to be asked for your business card, but don't hold back in asking for others if you make a connection.
Follow-up. Networking is where the conversation begins. Connect with people online and arrange 121s.
How to get referrals from networking without asking
Networking is a marathon, not a sprint. That said, business referrals are the lifeblood of a small business, especially when marketing budgets are tight.
So, how do you build a referral network? Finding your business advocates goes beyond attending events and handing out business cards.
Three ways to get business referrals without asking:
Do an excellent job. It may sound simple, but doing a fantastic job for your existing clients means they are more likely to leave you a positive customer review, or a LinkedIn recommendation and tell others like them.
Ask for feedback rather than a sale. Customers value a great experience over discounts so, ask them how you can improve your offering. Feedback will build loyalty, drive profitability and create your most powerful advocates.
Make referrals yourself. Make referrals to service providers who support you, your clients, fellow network members and co-workers. Walk the walk and set a precedent.

Do this one thing to benefit your networking
The secret to networking success is being proactive. Following an event, either an organised networking event or informal meeting, set yourself the goal of either:
Making an introduction or referral for somebody
Arranging a 121 to get to know each other better

Where to find business support while your work
Working alone and being self-employed can be isolating. Similarly, launching a business, whilst exciting, is also darn scary.
To keep imposter syndrome at bay, getting the right business support is important. The British Business Bank shares some good advice for where to find support as a start-up.
Joining networking groups can ease self-doubt and help you build a support network. Networking with others is inspiring and motivating, which will help you grow. With a support network of like-minded people, you should never have to face challenges – or celebrate success – alone.

Five places to find business networking opportunities:
Work contacts, past and present.
Local authorities. Find your local council.
Local networking groups and co-working spaces!
Networking while you work flexibly
Co-working spaces thrive on building a supportive business community, ideal for networking while you work flexibly.
At HomeWork Workspace, our London-based sites inspire flexible working with a great cup of coffee! We aim to help our members grow personally and professionally, offering you a relaxed way to build business connections.
As an introvert or an extrovert, a networking newbie or a super-connector, you can use our London co-working spaces in Fulham, Putney, Southfields, and soon Wandsworth to grow your network. Here's how we help you with networking while you work:
Networking over coffee
Research shows that regular breaks can help you to be more productive at work. Whether you need morning motivation or prefer an afternoon natter, get to know your co-workers over a cuppa at HomeWork.
We are passionate about coffee (and tea!) as it is essential to most people's working days. So, we have teamed up with Rosslyn Coffee, Origin Coffee, PLOT Roasting, and Teasup Teashop. Move over 'watercooler moments'; the in-house coffee shop is where people congregate.
Filter coffee and tea are free when you rent a space at HomeWork, and our Fixed Desk members and private offices also get 20% off all café treats, including barista coffee. Tag your tea break or coffee collaboration with us on Instagram!

Private phone booths for keeping in touch
A few positives from the Covid-19 pandemic are the change in attitudes towards working flexibly and the broader adoption of meeting technology. Now, people all over the world are more accepting of video conferencing.
Our private phone booths are ideal if you need to speak to your employees or colleagues or follow up for a 121 after a networking event. Our private phone booths are perfect for Zoom calls with active ventilation, light, adjustable chairs, a power source, a USB port, and total privacy.
You can book our private phone booths in advance to have total certainty over their availability; on a PAYG basis. Our monthly users have time allocations depending on their chosen desk arrangement.

Networking while getting down to business
We've got everything you need for a productive day's work in a collaborative environment designed for networking while you work.
From flexi desks to fixed desks, ergonomic chairs, chill-out zones, private phone booths, various-sized meeting rooms and studio space (at selected locations), and an in-house coffee shop, we've got you covered.
Our meeting rooms can help you to communicate your ideas, complete with a whiteboard, flip chart and TV. The rooms are available for hire to both members and non-members. Go on, get the team together, or start a collaboration opportunity.

Networking events and masterclasses
Some people find it easier to connect through shared experiences. At HomeWork, we regularly host networking events and mastermind sessions, allowing you to enjoy networking while you work or at one of our out-hours socials.
Join us on a morning to network over coffee and a pastry or an evening for a glass of wine or a cocktail/mocktail. If you're keen to get ahead in business, speak to one of our team about our masterclasses for learning and knowledge-sharing opportunities.

Down tools in our studio
All work and no play will make Jack (or Jill) dull and a possible candidate for burnout. We understand networking shouldn't always focus on business; it is about making connections. Shared interests, such as sporting activities or hobbies, are an excellent way to bond.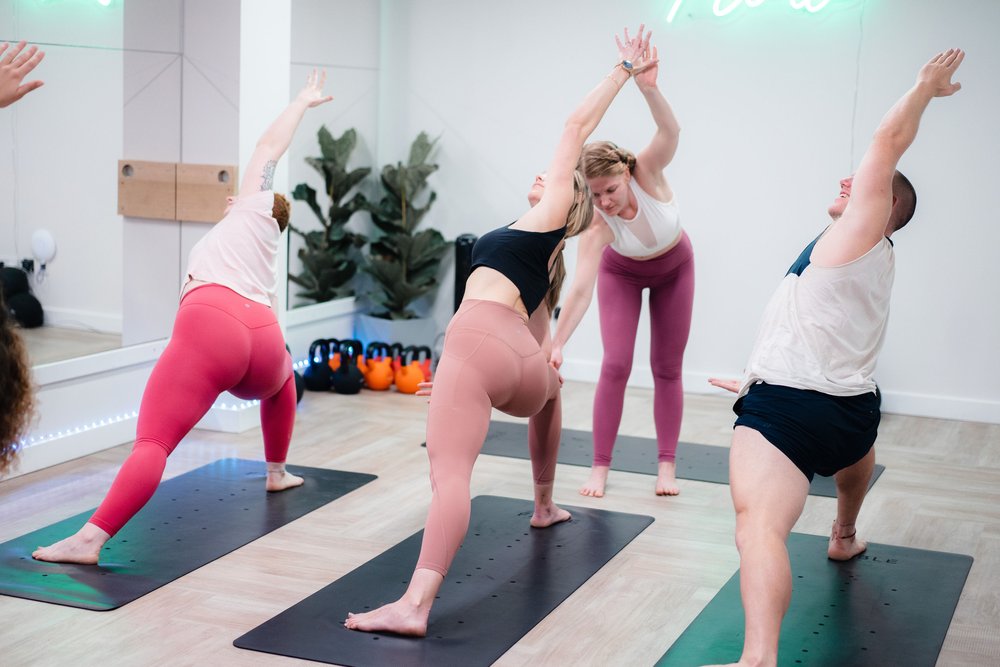 We've even got a boutique studio space at HomeWork Southfields. Our studio is perfect for PTs and small classes. Whether you're keen to hire a studio space or want to visit us for a class and make friends, we can help. Email the Studio team for bookings and enquiries.
"HomeWork has been a real game-changer for me. Having worked at home for several years on my own business, I realised I needed a space to truly focus on my work while also socialising and networking with other people with similar goals. I have been at the Southfields branch since its opening and loved every minute of it. Not only have my focus and productivity levels increased, but I have also built an ever-growing new circle of friends and colleagues that have made my experience here amazing."
Tony Nour, founder of The Big Fat One.
Networking is critical to building a sustainable business wherever you choose to work. Co-working spaces offer so much more than a flexible, professional workplace; they provide a vibrant business community.
If you're looking to grow personally and professionally, look no further. Welcome to HomeWork Workspace. Your new favourite place to get things done. To find out more about our networking opportunities or to book a desk, get in touch today
Would you like to hear more from HomeWork?
Sign up to our mailing list by completing the form.
We'll share a piece of content each month including advice from our CEO or our blog.